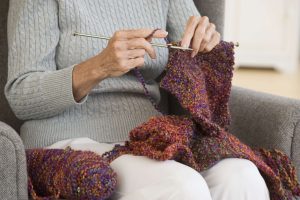 One of the biggest challenges facing the massage therapy profession is finding acceptance from the larger medical community as an effective, even necessary, therapeutic intervention. As a Registered Massage Therapist, and as anyone who receives regular massage therapy can confirm, we know that massage therapy can manage symptoms associated with all kinds of conditions. However, we have a hard time explaining exactly how it works and why it consistently provides relief, as there is a definite lack of scientific research to validate what us Registered Massage Therapists already know.  Thankfully, this is slowly starting to change.
As a massage therapist, I know that if a client comes to me complaining of arthritic pain, by the end of the massage that client's pain will have improved considerably.When there is arthritis present at a joint, the connective tissue (fascia)and muscles associated with that joint tighten up to protect the joint and, though they have noble intentions of protecting the affected joint and preventing more pain, ironically, they are often guilty of being a significant source of the pain the client is experiencing.
Tight muscles and fascia prevent full range of motion of a joint and cause dysfunction through all associated joints through the kinetic chain. Compensation patterns begin, and suddenly now you have pain in your left hip caused by the arthritis in your right knee. Chronically tight muscles and connective tissue also lack proper blood flow (perfusion) which encourages knots and Trigger Points to develop. These are often more painful than the arthritic joint itself.
By loosening up the muscles and tissue around an arthritic joint, we allow more range of motion, better perfusion to the affected tissues, and stop the spread of compensatory issues that will inevitably develop given time.  And now there is research to substantiate these claims.
A recent study funded by the National Institutes of Health (NIH) suggests that 60 minutes of massage each week for 8 weeks was an optimal massage dose, leading to significant reduction in pain and stiffness for participants suffering from osteoarthritis in the knee. Additional research from the Touch Research Institute at the University of Miami School of Medicine supports regular massage therapy treatments for improvements in pain levels, range of motion, hand grip strength and overall function of joints.
The research supports what us massage therapists and our clients already know: Massage therapy is a safe, effective intervention for managing arthritic pain. Now you don't have to only take us Massage Therapists' word for it! Give massage therapy a try and you'll see that the proof is in the pudding!
Perlman AI, Ali A, Njike VY, et al. Massage therapy for osteoarthritis of the knee: a randomized dose-finding trial. PLoS One. 2012; 7(2):e30248.